Morning has gold in its mouth, you could say, when you wake up to such lovely weather. A new, fantastic summer day and I have received a number of questions about the outdoor kitchen.
I bought three flower tables from Clas Ohlson, which my boyfriend partially dismantled and screwed together with parts from an old gray fence we should no longer have.
The sink and the faucet:
was bought from IKEA and the baskets are from Jysk. Of course, there was no room for drawers under the sink, so only the drawer fronts are glued on again. Behind the curtain we have put a gas bottle for the stove and a small water heater. I have sewn the curtain from two cup towels from Green Gate, where the potholders are also from. In the baskets I have added equipment we need for cooking and for cleaning the kitchen.
The knobs:
is hand-painted and comes from Leila's Loft, in the USA. I was very excited about whether they would fit the textiles I had already bought, but it was a hit.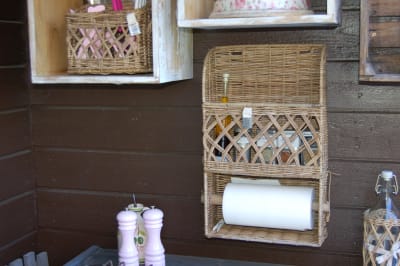 The cutlery basket and dryer roll holder come from Riviera Maison.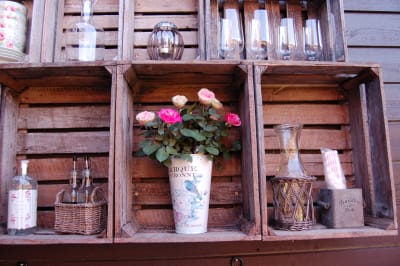 The wooden boxes bought at Kremmerhuset are only screwed up on the wall and used as shelves. On the shelves I have put things I found in drawers and cabinets.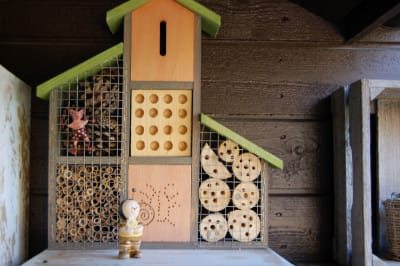 The insect hotel is fea Felleskjøpet, but since no insects live there, we have decorated it with our own.
I ordered a stove from the Marine Shop and did not discover until it was delivered that it was for installation. Since we did not want to lose more drawers, by building it in, my husband figured out that we could halve one of the wooden boxes and attach it there. A very nice solution, because then it is removable and we have more available bench space when the whole family wants to cook together.
To the right of the kitchen is our grill, with another hob and in front is the dining table, which is also home-made. The outdoor kitchen has really become a delicious and practical oasis for cooking, which we are brilliantly happy with. We always cook there when the weather allows it, like today, when I make delicious fish and chips with tartar sauce.
If you want to subscribe to news from the blog, you can sign up by sending us your e-mail address here. The newsletter is completely free.
You can also follow the blog on Facebook .