We will have friends over and cook a three-course dinner. When thinking about menus, I always take into account that I want to be with the guests as much as possible. This means that as much as possible is either ready in advance, so it may just have to be boiled or that it is in the oven and almost ready when the guests arrive.
The starter:
Forretten blir enkel, med grillet hvit asparges i parmaskinke. Den serverer vi med et par salatblader fra hagen, hollandaisesaus og revet Holtefjell XO fra Eiker gårdsysteri. Osten minner ganske mye om en parmesan og passer perfekt. Pynten er en basilikumkvast. Du finner oppskriften HER.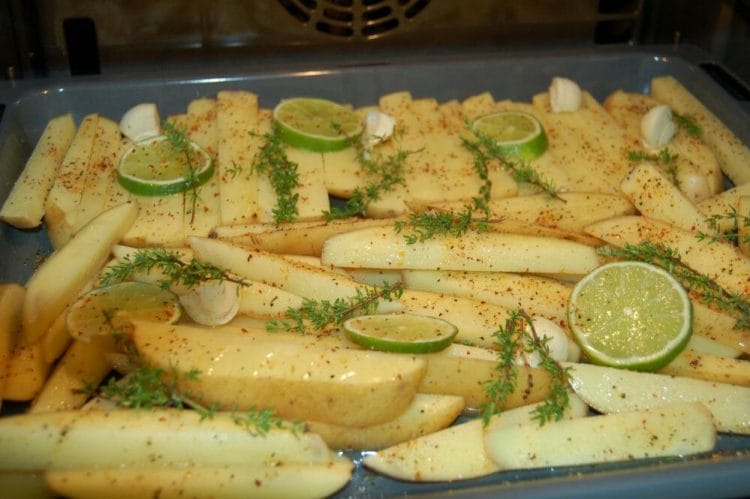 Main course:
The next part of the dinner, the main course consists of potatoes cut into thick sticks placed in a long pan. They are smeared on all sides with olive oil and seasoned with salt and pepper. In addition, I add stalks of thyme, slices of lime and a whole clove of garlic. The potatoes are fried for 20 minutes at 300 degrees and then 1 hour at 200 degrees.
The vegetables and the sauce are in one mix. Cut the carrots, parsley root and celery root into tiny cubes. Cut the corn off two cobs, mix everything in a saucepan, add a vegetable stock cube and pour over cream to cover. Cook it on a low heat until the vegetables are tender. Mix in lots of finely chopped fresh tarragon and lots of dried tarragon, salt and pepper towards the end of the cooking time. It should have a good béarnaise-like taste. When it's finished cooking, it should have the consistency of a sauce, but if you think it's too thin, you can add a little light cornstarch.
Calves:
Brush the calf with rapeseed oil, garlic, pepper, salt and thyme before grilling it until it is pink inside. You are welcome to use a roasting thermometer, but when you get some practice, you can feel it on the meat when it is properly cooked. The fillet is red when it has a core temperature of 55-60 degrees and pink when the roasting thermometer shows 60-65 degrees. Let the fillet rest for approx. 15-20 minutes before slicing and serving.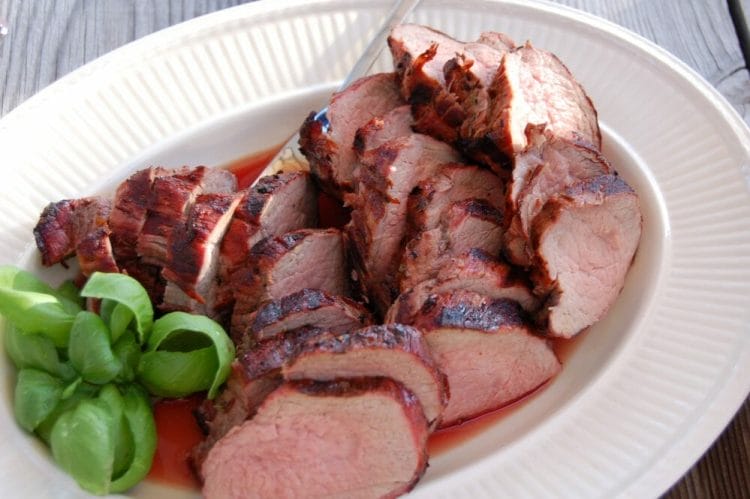 I serve caramelized chestnuts for the main course. This is easily done by spreading chestnuts (without peel) over a baking paper sprinkle with lots of sugar and leave it at 200 degrees in the oven until the sugar has become caramel. It is important to pay close attention so that the caramel is not burnt. When it has become cold, break it apart and place in a bowl.

Desserts:
For the last course of the dinner, dessert, I serve clafoutis with vanilla ice cream and, of course, a good dessert wine.
For 4 people:
3 egg
1 dl sugar
3 dl wheat flour
1 dl whipped cream
1 dl milk
1/2 ts salt
Whisk everything together by hand and pour it into portion forms.
Add 100 g of marzipan in small pieces and spread evenly in the molds as desired. I use raspberries, cherries and blueberries from the garden this time.
Bake the clafoutis at 200 degrees until it is deliciously golden. It takes about 30 minutes. Serve immediately with a good vanilla ice cream. You can find the recipe for mine here .
When dinner is served, you can sit back and feel the good atmosphere around the table and enjoy good wine.
The tableware is from Wedgewood and is called Edme. The nice napkin rings are from Kalma and I have decorated extra with a rosebud, which guests can put in their hair or buttonhole if they want.
If you want to subscribe to news from the blog, you can sign up by sending us your email here. It's completely free.
You can also follow the blog on Facebook .