Pizza buns are very nice tour food, lunch and fit well for a child's birthday. They taste good both hot and cold.
Dough:
550 g mel, helt tipo 00
1/2 pk pizza yeast
1 ts salt
2 teaspoons honey
1 tbsp olive oil
About. 3 dl cold water
Knead everything well together and let it rise. The dough is perfect, when it is so moist that you just manage to roll or push it out, then add enough water.
Leave the pizza dough covered on the counter and rise for at least 1 hour.
Pizzasaus:
1 box chopped tomatoes (preferably Mutti)
1 finely chopped onion
2 bay leaves
1 tablespoon dried oregano
2 finely chopped cloves of garlic
1 tablespoon dried basil
1/2 ts pepper
A few drops of tabasco
1 teaspoon crushed fennel
Mix everything in a saucepan. It must cook for a long time, preferably an hour or more.
When the bottom is raised, roll it out into a rectangle and spread on pizza sauce. Add the filling you want to the sauce, I have used crispy bacon, chopped onion and cheese. Roll the bottom together into a sausage and cut it into inch-thick slices, which you place on the baking tray to rise for about 30 minutes.
The pizza balls are baked at 200 degrees until golden and fine.
Pizza buns are nice to freeze until later. I usually half-fry some of them, freeze them and fry them ready when they are to be eaten. Then they taste completely freshly made.
You will find many exciting pizza varieties here .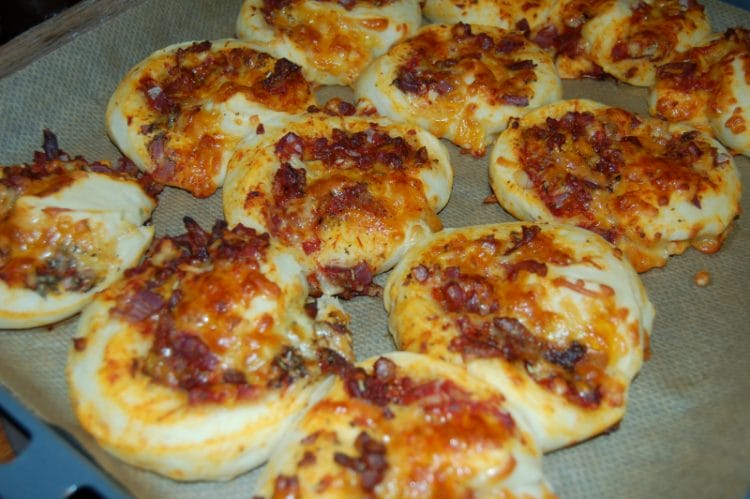 If you want to subscribe to news from the blog, you can sign up by sending us your e-mail address here. The newsletter is completely free.
You can also follow the blog on Facebook .