Pizza Jamaican style has the delicious taste of the Caribbean. You can get it as strong or mild as you want, by adjusting the amount of chilli. This recipe makes enough for 2 pizzas.
Start with the bottoms:
6 dl type 00 mel
2 tablespoons olive oil
1 ts salt
1 teaspoon sugar
1/2 bag dry yeast
About. 2.5 dl lukewarm water
Knead everything well together. Make sure that the dough does not become too firm, but rather almost a little too wet (so that it can just be pressed out). Let it rise for a minimum of 1 hour. You can also make the dough the day before and let it rise slowly in the fridge. Divide the dough in half and press each bottom round and flat.
When the dough rises, you can start with the marinade / topping:
4ss jerk caribbean chili sauce
4ss sour cream
1 tablespoon strong mustard
The juice of 1 lime
Place 3 shredded chicken fillets in half of the marinade. The rest of the marinade is saved in a bowl in the fridge until you are ready to eat and use as a topping.
Take the chicken out of the marinade and fry it almost done in a pan with a little oil.
Pizzasausen:
1 small box Mutti pizza sauce
1 clove garlic
2 brown sugar cubes
1 teaspoon cinnamon
1 teaspoon nutmeg
2 teaspoons dried thyme
1 teaspoon allspice
Mix everything in a saucepan and cook over low heat for 5 minutes.
Pre-fry the bottoms for a few minutes at 300 degrees. Spread the sauce over the pizza bases. Add the chicken, 1 shredded pepper, 1 can of pineapple in pieces, 100 g pieces of blue cheese, grated cheese as desired, 50 g chopped walnuts and lots of whole red fresh chili (or not so much, if you do not like it).
Bake the pizzas at 300 degrees until they get a nice color. When the pizza is done baking, put on boats of lime and fresh coriander.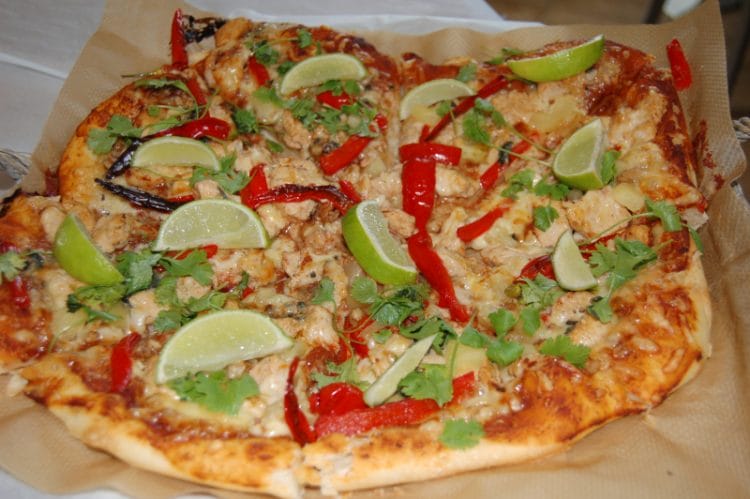 If you want to subscribe to news from the blog, you can sign up by sending us your email address HERE. The newsletter is completely free.
You can also follow the blog on Facebook .