We were quite excited when we were going to bake pizza for the first time in the new pizza oven and made dough according to all the rules of art. It was a little extra exciting, since we had guests, but the result was beyond expectation. The pizzas were with homemade pizza sauce, four kinds of cheese, onions, aroma mushrooms, bacon and basil.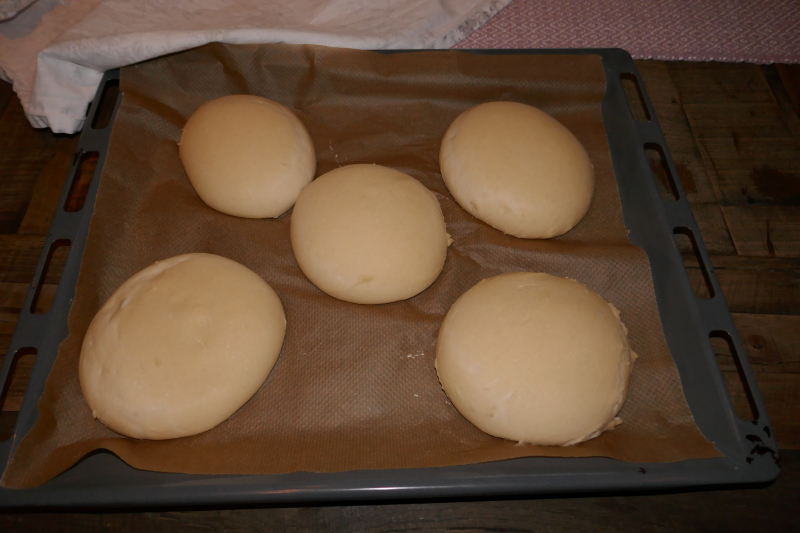 I made the pizza base the night before, shaped it into 5 pieces and put it, covered, in the cold room until the next day.
This recipe gives 4 bases adapted to the pizza oven. Mix 12 dl tipo 00 flour with 4 tablespoons olive oil, 2 teaspoons salt, 2 teaspoons sugar and 1 bag of dry yeast. Stir in lukewarm water (approx. 5 dl) and knead well. Make sure that the dough does not become too firm, but rather almost a little too wet (so that it can just be pressed out). Let it rise for a minimum of 1 hour. You can also make the dough the day before and let it rise slowly in the fridge. Divide the dough into four and press each bottom round and flat.
Press out each item so that the bottoms are really thin.
I make the sauce from:
1 box of chopped tomatoes from Mutti
1 finely chopped onion
1 bay leaf
1 tablespoon dried oregano
2 finely chopped cloves of garlic
1 tablespoon dried basil
1/2 ts pepper
A few drops of tabasco
1 teaspoon crushed fennel
Mix everything in a saucepan and let it cook for a long time, preferably an hour or more.
Once you have added the sauce, it is only the imagination that limits what you can wear, but remember that the Italians do not pile down the pizza with lots of filling.
The temperature of the oven during baking was 430 degrees. The actual frying is very fast (approx. 1 min.), So here it must be followed, so you do not end up with charcoal.
The pizza oven is from Forno and is available in several varieties.
If you do not have a pizza oven, you can buy pizza stone and make it on the grill. It will also be very good.