When I was little, pizza was for most people, something they ate in Italy. I was in the only family I knew of that had pizza-making parents and the only pizza I knew of was the one with tomato, anchovies and olives. My mother started making it already in 1968, two years before Peppes opened his very first restaurant in Norway. She even used the hitherto unknown ingredient garlic. I thought this pizza was absolutely delicious and I still think so.
After talking to my family about this amazing pizza for several years, I finally took the challenge from my sons and made it for them. There was absolutely no success and I had to eat it alone, after the others had threatened the piece they had supplied themselves with. I have gradually come to understand that I had highly developed and adult taste buds as a child.
I eventually discovered that pizza can be varied endlessly. It can be anything from advanced varieties, with lots of preparations, to the simplest simple, with leftovers you find in the fridge and baked-in varieties. I have some favorites, including Thai pizza, pizza with four cheeses and Italian pizza on the grill with bacon and arugula.
Pizza base:
I am very good at pizza base, but very bad at recipe. If I were to suggest anything, it would be this:
550 g mel, helt tipo 00
1 ts salt
1/2 pk pizza yeast
1 teaspoon sugar
1 tbsp olive oil
About. 3 dl cold water
Knead everything well together and let it rise. The dough is perfect, when it is so moist that you just manage to roll or push it out, then add enough water.
I always use tipo 00 flour, pizza yeast, salt, oil and water. The dry and the oil I pour in, after eye measurements in the food processor bowl, start it and fill water until it has the right consistency. The dough is left to rise in the cold room for many hours, which makes it perfectly raised. I usually put the dough either the day before or early in the morning. When I'm going to use it, I peel it out and set it to a new rise at 37 degrees in the oven. When it is finished raised, I set the oven to 250 degrees and pre-cook the bottom, without filling. It becomes bright and crispy.
There is a difference between the rolling out of the Italian pizza and the American. The American is thick and airy, while the Italian is very thin and crispy. I recommend that you fry the Italian in a special way. It tastes great with pizza stone on the grill, or look for this mark on your oven. It is hot air with only underheating and gives a wonderfully crispy bottom, which is similar to the treatment it gets in Italian pizza ovens. If this mark is missing on the stove, ordinary hot air is the next option.
Here are some pizza options. All of them are tested and approved in our home.
Indian pizza – pizza vindaloo:
Pizza with smoked salmon and roe:
Pizza with steak and bearnaise: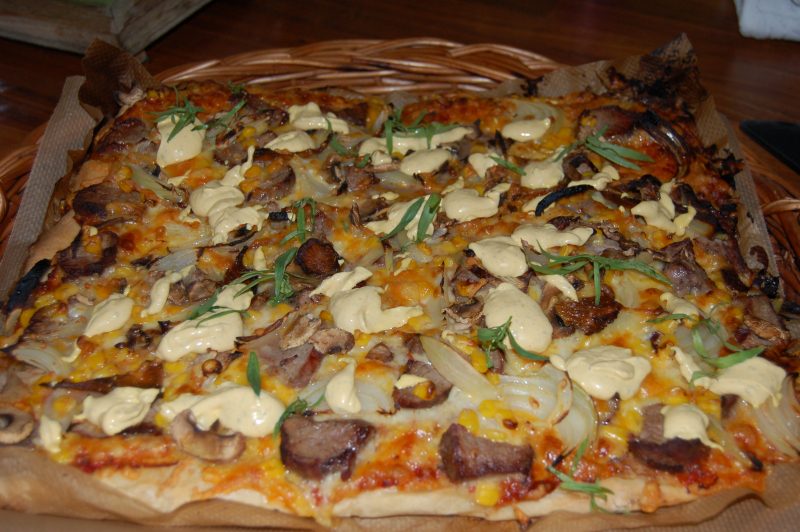 Tarte flambée, is a French variant from Alsace:
You can find even more varieties HERE.
If you want to subscribe to news from the blog, you can sign up by sending us your e-mail address here. The newsletter is completely free.
You can also follow the blog on Facebook .