We were excited before this day in Goa. Since the interest in food is a little more than average, we had signed up for a trip to a spice plantation.
In honor of the tourists, they had created a small area, where they had planted many different herbs and trees together.
Det er fascinerende å gå rundt og se hvordan kjente krydder vokser på planter og trær vi ikke har visst hvordan ser ut.
We got to see how black pepper, cardamom, nutmeg, vanilla, cinnamon, cloves, chili, coriander, cashew and betel nut, to name a few grow.
Noe av det mest kuriose, var at de hadde importert vanilje. Siden vaniljen blir befruktet via kolibrier og de ikke finnes i India, må de gjøre jobben selv.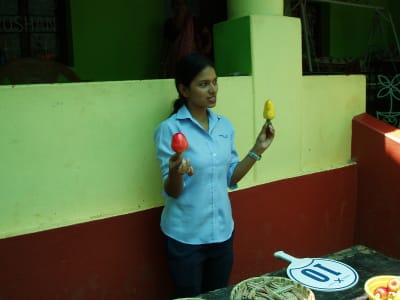 Vi avsluttet dagen i krydderplantasjen med fantastiske indiske småretter. Her er et lite utvalg. Tallerkenene var laget av tørkede palmeblader og var engangs.
You will find exciting Indian food recipes here
If you have felt like visiting this beautiful and tasty place, you will find more information here:
http://tropicalspiceplantation.com/
Du finner flere av mine reiser og restaurantbesøk HER.
Om du vil abonnere på nyheter fra bloggen, kan du melde deg på ved å sende oss e-postadressen din her. Nyhetsbrevet er helt gratis.
Du kan også følge bloggen på Facebook.