My boyfriend has made a nice and fun bar, which hangs out at the cabin in Sørlandet in the summer. We call it the long island bar. In it you will find everything you need to make a long island iced tea. The bar is equipped with downlights, to ensure that it is usable in the night as well. In addition, there is a bottle opener, for those who do not like it so much.
When someone rings the bell, the fish dip and the hook move, so that the fish can bite, if you are very lucky.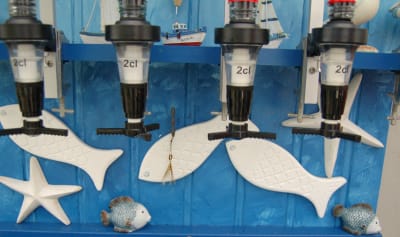 Here are some details. We buy some new little things for the long island bar every year:
The calendar was purchased in Mauritius.
The two seagulls are this year's new acquisition.
The bird tray is for peanuts.
The boats are bought on various trips abroad.
The small barrels at the bottom ensure that there is no drip directly on the wood. They are easy to lift away to wash when needed.
When Langøya bar is hung out, all you have to do is wait for a big move.
If you want to subscribe to news from the blog, you can sign up by sending us your e-mail address here. The newsletter is completely free.
You can also follow the blog on Facebook .