204 - the soot pink room is the old room of the eldest son in the house and since he lives within walking distance of us, he does not need to spend the night anymore.
I like to use neutral colors on the wall and ceiling. The gray color on the wall is pretty smart, in case I get bored of the pink color. It is easy to replace interior details and not redecorate the whole room.
The bed is 150 cm wide and has a storage room underneath. The storage room uses will for storage of garden furniture cushions in the winter, so it is quite smart. I found the bedside table on finn and it looks completely new. The rug and lamp are from Rusta and the floral bedding from Sparkjøp. Everything does not have to be so expensive, to be cozy. The candy bun is from a flea market and I make sure there is chocolate with pink paper in it.
Of course, the soot pink room had to have a suitable dressing gown, and I found it on KID.
Mix old and new
The picture on the left is from a second-hand shop and the one on the right from fineart. Both are framed by Oddvar Olsen in Drammen.
The old picture with flowers is painted by the great-grandmother of Helene Marie Fossesholm and I inherited it from my grandparents.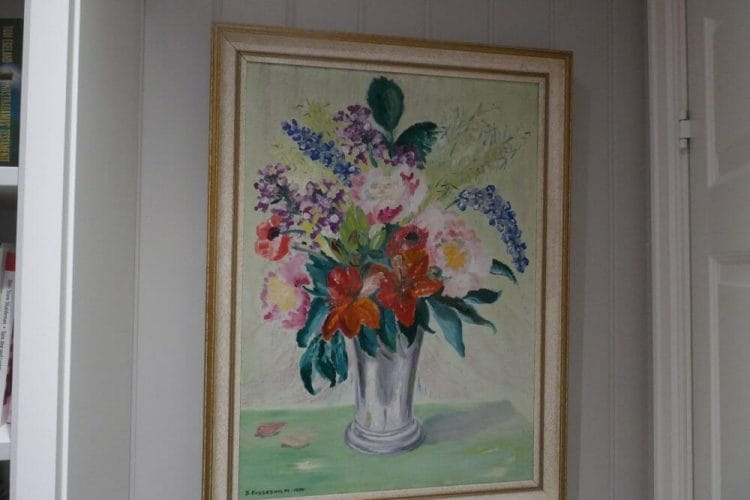 The old tin on the left is heirlooms from the family of the man in the house and the pink box is filled with food recipe clippings, which are to be tested.
The nice lanterns are made by Lara Bohinc. Since they are inside a cupboard, I use electric tealights in them.
The old cups are after my great-grandmother, who lived until I was 21 and who I was very fond of.
Our guest rooms are always ready to receive visitors and the fact that there are numbers on the doors means that we only let them know where they will stay, when they arrive.
If you want to subscribe to news from the blog, you can sign up by sending us your e-mail address here. The newsletter is completely free.
You can also follow the blog on Facebook .