Bol Renversé means inverted bun and is a chicken dish from Mauritius. All the ingredients are filled in a bowl, which is then turned over onto a plate. This recipe is suitable for 2 pers.
Sauce:
1 tablespoon cornmeal
2 tbsp soy sauce
4 tablespoons oyster sauce
2 tablespoons Chinese rice wine
1 tbsp sesame oil
1/2 ss pepper
3 tbsp rapeseed oil
Stir together all the ingredients for the sauce and set aside.
Woken:
300 g chicken breast in strips
75g shitakesopp
1 carrot
1 onion
2 garlic cloves
125 g min
6 Argentinian wild prawns (possibly scampi)
1 bok choy
Brown mushrooms and chicken breast in a little oil. Add the carrot, onion and garlic and stir until the onion becomes shiny. Add the sauce and mini corn and bring to a boil. Stir in the wild shrimp and bok choy and let it snuggle under a lid until the shrimp is ready (time depends on whether the shrimp is cooked or raw, when you add them.
Mounting:
2 eggs fried on low heat in a little canola oil
Woken
Basmati rice for 2 pers, made according to instructions on the package
Carefully place the egg in the bottom of a small bowl and pour on a couple of generous ladles from the wok. Spread rice on top and pat it flat. Put a plate on top and quickly turn over, so the egg will appear on top. Serve Bol Renversé immediately.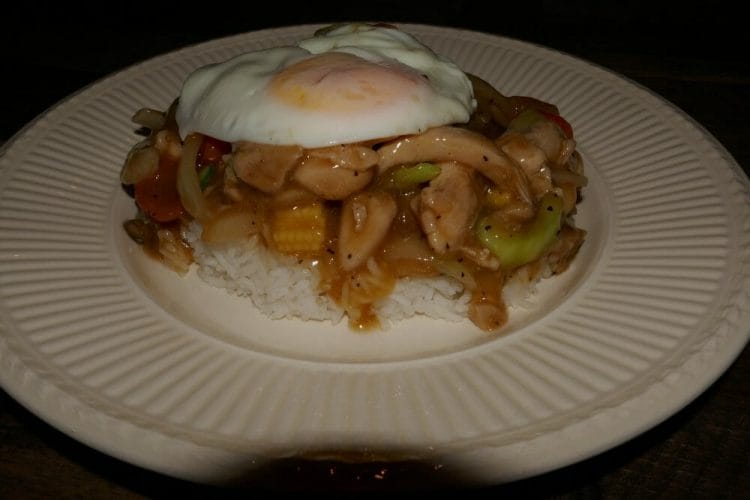 If you want to subscribe to news from the blog, you can sign up by sending us your e-mail address here. The newsletter is completely free.
You can also follow the blog on Facebook .