Musaka, not to be confused with the Greek moussaka, is a well-known dish in the Baltic states and a real cuddle dish.
A little olive oil
2 onions, finely chopped
500 g ground beef or ground beef
1 tbsp vegeta, possibly crushed vegetable broth cube
Salt and pepper
1.4 kg potatoes, peeled and thinly sliced (approx. 6 mm)
Eggestand:
4 store egg
240 g sour cream
3.5 dl milk
2 teaspoons vegeta, possibly crushed stock cube
1 ts pepper
Parsley, finely chopped for garnish
Grease a baking dish (about 23 x 33 cm with olive oil.
Lightly brown the onion in oil in a frying pan, add the minced meat and chop it into pieces. Brown further, add vegeta and season with pepper. If more salt is needed, stir in more vegeta.
Place 1/3 of the potato slices evenly over the baking dish. Spread half of the ground beef over, before spreading the next 1/3 of the potatoes over. Add the rest of the ground beef and finally the rest of the potatoes, preferably in a nice pattern.
Whisk together the ingredients for the egg stand and carefully pour it over the minced meat and potatoes. Bake musaka in the middle of the oven at 200 degrees until the potatoes are tender and the top is golden brown. It takes approx. 45 – 60 min.
Let the mold stand for 10 minutes before sprinkling the parsley, slicing the musaka, and serving.
Serve with a salad, e.g. šopska salad, which you will find a recipe for HERE.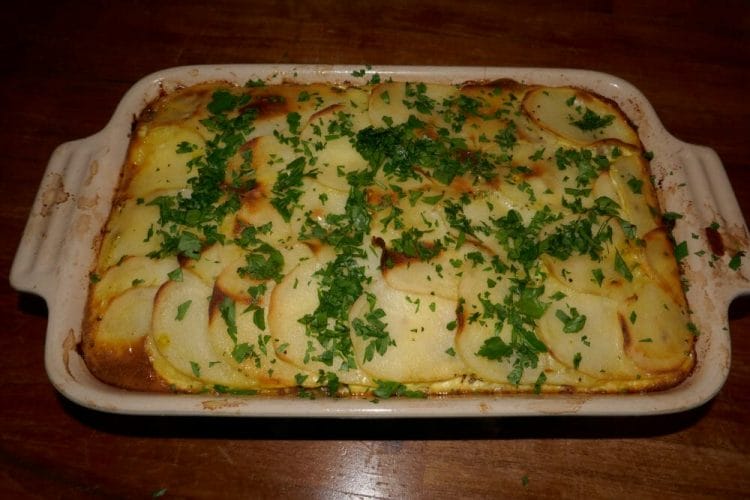 If you want to subscribe to news from the blog, you can sign up by sending us your e-mail address here. The newsletter is completely free.
You can also follow the blog on Facebook .