Chicken curry from Sri Lanka is a tasty dish with a little sting. You can make it strong or milder, by adjusting the amount of cayenne and chili.
3 tablespoons of coconut oil
1 onion in strips
4 garlic cloves, finely chopped
2.5 cm ginger, grated
6 – 7 curry leaves ev. 2 bay leaves
1 tbsp curry
1.5 tablespoons garam masala
1 cinnamon stick
1/2 teaspoon salt
1 teaspoon cayenne pepper
1 tablespoon paprika powder
900 g chicken in large cubes
2 green chilies, divided lengthwise, without seeds
3 tomatoes divided into cubes
2 teaspoons of brown sugar
2 teaspoons apple cider vinegar
2.5 dl coconut milk
1 dl water
Heat coconut oil in a large saucepan and add onion, garlic, ginger and fry until the onion is soft.
Add curry, garam masala, cayenne, paprika, cinnamon, curry leaves (bay leaves) and mix together. Boil for a few minutes, stirring, until you start to smell spices.
Add in the chicken, chili, salt, tomatoes and 1 tablespoon of brown sugar and bring to a boil while stirring. Boil for 10 minutes with the lid off, on medium-high heat. Stir frequently to make sure the chicken or spices don't burn.
Add coconut milk, water, vinegar, and bring the curry to a boil. If you want less sauce, add less water, but then it will also be stronger.
Lower the heat and simmer with the lid on for 15 – 20 minutes, stirring occasionally. Season with salt and possibly more sugar and vinegar.
Chicken curry from Sri Lanka is served with rice, cooked according to the instructions on the package. It also tastes good with chapati to, which you will find recipes for here or roti, which you can buy in Asian stores.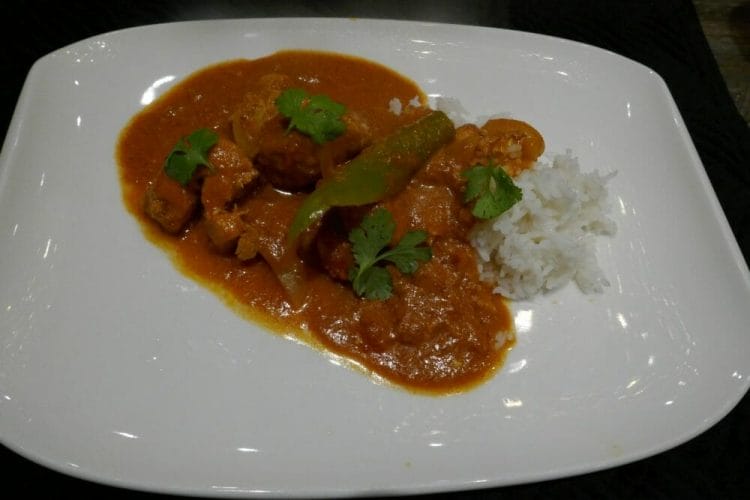 If you want to subscribe to news from the blog, you can sign up by sending us your e-mail address here. The newsletter is completely free.
You can also follow the blog on Facebook .