It takes some time to make pho (pronounced FØ), but it is not so much work, just a lot of waiting. This soup is my absolute favorite soup from Vietnam and it is really worth the wait.
The power:
1.8 kg bones of cattle
1 onion divided into 4
Put bones and onions in the frying pan and bake them in the oven at 220 degrees, until the bones are brown and the onions are soft (approx. 1 hour).

5 slices of fresh ginger
1 ss salt
2 star anise
2,5 ss fishsauce
about. 4 liters of water
1 dl hoisinsaus
1/2 dl chili-garlicsaus (f.eks. Sriracha)
Put the fried bones, onion, ginger, salt, star anise, and fish sauce in a large saucepan and cover it with water. Bring to the boil, turn down the heat and let it cook for 10 hours. Strain the power and add the hoisin sauce and chili-garlic sauce.
Serving of pho:
1 pk. rice noodles
700 g tenderloin in thin slices
1 finely chopped spring onion
1 dl finely chopped coriander
2 dl cup bean sprouts
1 bundle of Thai basil (available in Asian stores)
Glue in boats
Hoisin sauce in a small bowl
Chili-garlic sauce (sriracha) in a small bowl
Put rice noodles in room temperature water for 1 hour. Boil a pot of water and let the noodles soak for 1 minute. Divide the noodles into 4 bowls together with raw tenderloin strips, spring onions and coriander. Pour over hot power, stir and wait until the meat is no longer red on the outside. It takes 1-2 minutes. Serve with bean sprouts, Thai basil, lime in boats, hoisin sauce and chili-garlic sauce next to it, which guests can add as desired.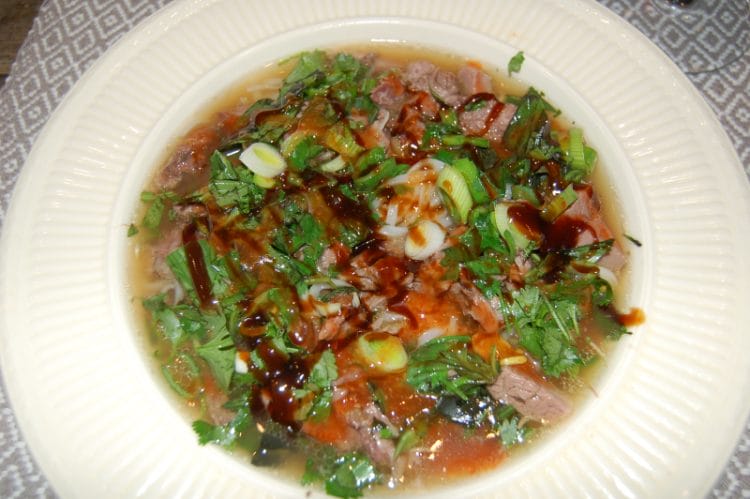 If you want to subscribe to news from the blog, you can sign up by sending us your e-mail address here. The newsletter is completely free.
You can also follow the blog on Facebook .