Asian beef pizza has delicious flavors used in China, Taiwan and Korea. It was made once we had leftovers from a steak wok and is one of our pizza favourites.
Pizza bases:
550 g mel, helt tipo 00
1 ts salt
1/2 pk pizza yeast
1 tablespoon honey
1 tbsp olive oil
About. 3 dl cold water
Knead everything well together and let it rise. The dough is perfect, when it is so moist that you just manage to roll or push it out, then add enough water.
When I make pizza, I let the dough enjoy itself for a long time, preferably in the fridge overnight. I take it out approx. 1 hour before I use it and let it rise on the bench, before I push / roll it out and let it rise for approx. 30 minutes. For Italian pizza, it is rolled very thin and for pizza with an American base a little thicker. If you make the pizza dough on the same day as you are going to use it, it can be left on the counter and raised for a minimum of 1 hour. I always fry the bottom at high temperature for a few minutes, before I put on the filling.
Marinade:
2 finely chopped garlic cloves
1 finely chopped chili
1 cm finely chopped fresh ginger
2 dl hoisinsaus
2 dl soy sauce
1 tbsp sesame oil
2 dl sweet ketjap
1 onion in strips
1 tsp baking soda
250 g beef in strips
Mix all the ingredients for the marinade in a bowl and add 250 g of beef to strips, preferably overnight, but a minimum of 1 hour.
1 pk shitake mushrooms in strips
1 fistful of cashew nuts, coarsely chopped
Quickly brown the marinade mixture along with shitake mushrooms in a frying pan, stir in nuts and set aside.
Mounting:
The meat mixture
1 red onion in strips
1 paprika in strips, preferably two different colours
200 g grated cheese, preferably well aged and preferably several types
Put on the meat mixture. Sprinkle on cheese, put on peppers and onions. Bake in the oven at full blast, until cheese is golden and bottom fried.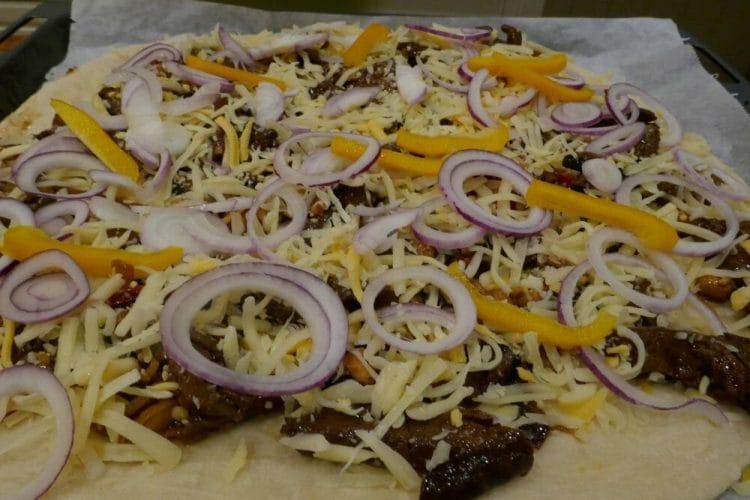 You will find lots of exciting pizza varieties HERE.
If you want to subscribe to news from the blog, you can sign up by sending us your e-mail address here. The newsletter is completely free.
You can also follow the blog on Facebook .