A cozy summer table is nice to set, and this table is in connection with the fact that we invited my sisters-in-law and their men to a barbecue buffet. The weather was quite unstable this day, so it was difficult to decide whether we should sit inside or outside, but ended up covering up inside. When the guests arrived, it suddenly looked beautiful, so we had the welcome drink and appetizer there, before escaping inside and eating the rest of the meal inside.
This time the order for Kari at Interflora was that I would like a decoration that oozes summer and I got that. Since I'm always on the lookout when there's an offer on napkins, I have many varieties to choose from and these went well both for the runners and for the flower decoration.
And the menu?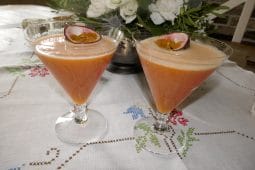 Welcome drink: Pornstar martini
Appetizer: A plate of ham, cured sausages, olives, cheese and delicious, crispy bread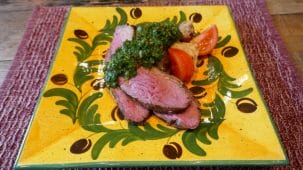 Main course: Four types of grilled meat ( beef tenderloin , lamb tenderloin, chicken fillet and spare ribs with various accessories, such as chimichurry , salsa
and BBQ sauce .
Dessert: Limoncellotiramisu
If you want to subscribe to news from the blog, you can sign up by sending us your e-mail address here. The newsletter is completely free.
You can also follow the blog on Facebook .