Hawaiian pizza is pizza with pineapple, bacon and ham. The very first Hawaiian pizza was created in a restaurant in Ontario, Canada in 1962.
Pizzasaus:
1 box of chopped tomatoes from Mutti
1 finely chopped onion
5 drops of tabasco
1 bay leaf
1 tablespoon dried oregano
2 finely chopped cloves of garlic
1 tablespoon dried basil
1/2 ts pepper
1 teaspoon crushed fennel
Everything is mixed in a saucepan and cooked for a long time, preferably an hour or more.
Pizza bases:
550 g mel, helt tipo 00
1 ts salt
1/2 pk pizza yeast
1 tablespoon honey
1 tbsp olive oil
About. 3 dl cold water
Knead everything well together and let it rise. The dough is perfect, when it is so moist that you just manage to roll or push it out, then add enough water.
When I make pizza, I let the dough enjoy itself for a long time, preferably in the fridge overnight. I take it out approx. 1 hour before I use it and let it rise on the bench, before I push / roll it out and let it rise for approx. 30 minutes. For Italian pizza, it is rolled very thin and for pizza with an American base a little thicker. If you make the pizza dough on the same day as you are going to use it, it can be left on the counter and raised for a minimum of 1 hour. I always fry the bottom at high temperature for a few minutes, before I put on the filling.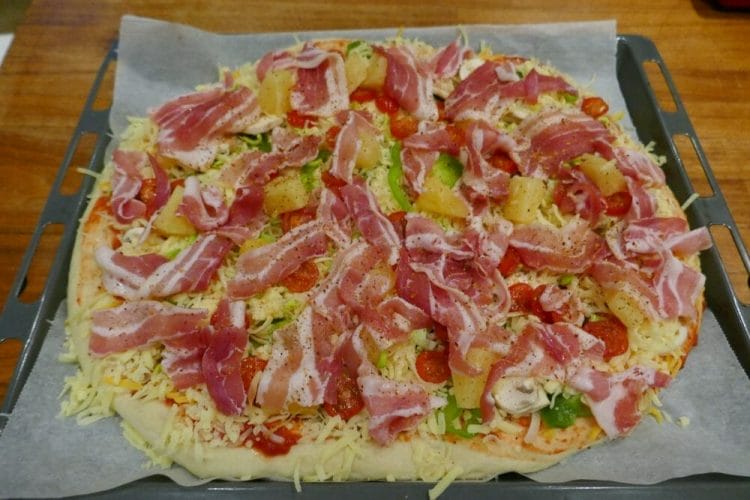 Mounting:
Pizza sauce
Grated cheese, preferably well aged and preferably several types
Sliced tomatoes
Sliced mushrooms
Green pepper in strips
Finely chop leeks
Cooked ham in pieces
Baconskiver
Pineapple chunks
Spread the sauce over the bottom, sprinkle on the cheese and distribute the rest of the ingredients, with the bacon slices on top. Bake at full heat, slightly below the center of the oven, until the base is done, the cheese is golden and the bacon has taken on a nice colour.
You will find lots of exciting and varied pizza recipes HERE .
If you want to subscribe to news from the blog, you can sign up by sending us your e-mail address here. The newsletter is completely free.
You can also follow the blog on Facebook .