The power:
3 kg chicken wings (or if you want to use chicken hull instead, it works just as well)
4 medium-sized carrots in coarse slices
1 leek in coarse strips
2.5 l sold
1 whole garlic, with the peel on, roots removed, cut in two horizontally
2.5 cm ginger, peeled and cut into 5 parts
20 dried shiitake mushrooms
2.5 cm dried kombu (seagrass or seaweed)
1/2 cup soy sauce
Put the chicken wings in a long pan together with the carrots and onions. Put it in the middle of the oven at 225 degrees and leave it until it has a nice, golden color. Stir occasionally so that everything turns brown.
Transfer the chicken and vegetables to a large saucepan. Pour 5 dl of the water into the frying pan and put it back in the oven on high heat. Bring to the boil and scrape the pan with a spatula, so you get all the goodies. Pour the water mixture into the pot with the chicken and vegetables. Add garlic, ginger, dried shiitake, kombu, soy sauce and the rest of the water to the pot. Bring to the boil and turn down so that it just boils and let it cook for 3 - 3.5 hours.
Pour the mixture through a sieve, so you get the power into a new pot. Cool the broth and leave it to cool overnight. Remove the grease that settles on the surface and discard it.
For salting:
1/2 cup soy sauce
2 ss dead
Mix soy sauce and mirin in a small, tight container and set aside to cool.
The chicken:
8 chicken thigh fillets
4 ss mel
2 egg
1 pk panko
Dip the fillets first in flour, then in eggs and finally in panko. Put them in an ovenproof dish drizzled with oil and bake at 225 degrees for 30 minutes.
Egg:
4 store egg
Boil the eggs for 8 min. Cool them in cold water, peel them, cut them in half lengthwise and set them aside until used.
Noodles:
Ramen noodles for 4 people are cooked according to the instructions on the package. Cool them in cold water to stop boiling.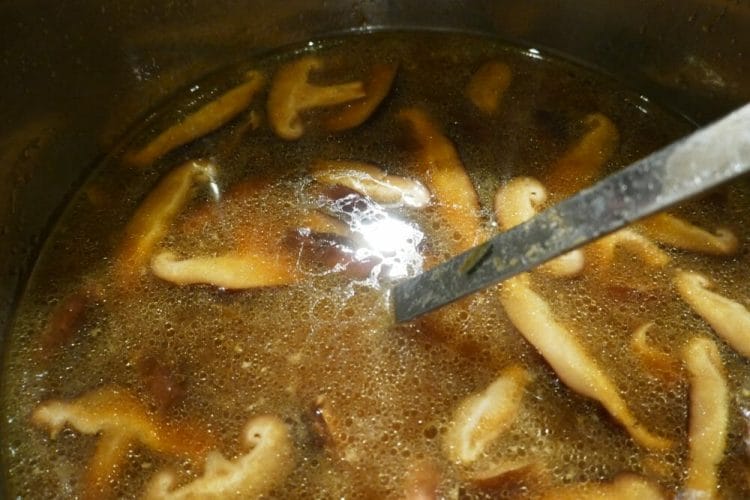 Servings:
Heat and taste to the power with the salting mixture.
Set out bowls with the following:
1 dl menma (fermented bamboo shoots)
Eggs, divided in two
6 spring onions in thin strips
3 nori sheets, cut into strips
1 pk fresh shiitake, cut into slices
Panco chicken, sliced
Chili oil or sesame oil
Divide the noodles between 4 deep, wide bowls (or more bowls if you want smaller portions). Spoon in the hot power. Each person tops their soup with the desired accompaniment.