Lasagne with lots of vegetables is almost like magic. It gets cheaper, healthier and you do not notice the vegetables. I also cheat a bit here, in that I do not make my own white sauce, but mix cream in the tomato sauce. It gives the same effect in the mouth, where everything is mixed no matter what.
4 large carrots, peeled and divided into tiny cubes
2 onions, preferably a red one and a normal spring onion, diced into tiny pieces
400 g chop dough
1 tablespoon finely chopped garlic
1 tablespoon dried oregano
2 cubes of vegetable broth
1 glass (or 2 cans) chopped tomatoes (preferably Mutti)
2 bay leaves
1 tablespoon dried thyme
1 tablespoon dried basil
2 tbsp tomato puree
Freshly ground pepper and salt
3 dl cream
1 ts nutmeg
200 g of cheese of your choice, e.g. parmesan, jarlsberg, edam, mozzarella and Norway. It tastes extra good if the cheeses are slightly aged.
Approach:
Start by frying the patty dough and vegetables in oil. Stir often and let it cook until the meat takes on some colour.
Then add chopped tomatoes, garlic, oregano, thyme, basil, bay leaves, tomato puree, vegetable stock, cream, nutmeg and freshly ground pepper and salt.
If you taste it now, you will feel that it is quite sour, so cook it for two hours until it becomes rounder in taste) and thick like porridge. If you don't have time to wait, you have to smooth with cornstarch and add sugar.
When you think the sauce tastes good and it has become thick and nice, layer it with lasagne sheets and grated cheese in a refractory form. I think it's good with a layer of cheese between the layers and finished with a layer on top.
Put the mold in the oven at 200 degrees for an hour. Cover with aluminum foil for the first half hour, so that the cheese does not become too dark. Served with a salad and good bread, for example these delicious rolls .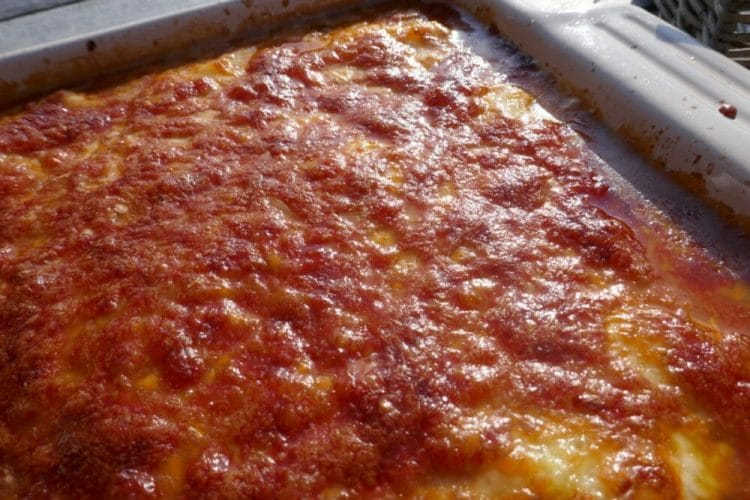 If you want to subscribe to news from the blog, you can sign up by sending us your e-mail address here. The newsletter is completely free.
You can also follow the blog on Facebook .