Good morning in the rain! Today the day started with unannounced torrential rain and we had to seek shelter under the roof at our entrance, to enjoy the morning coffee / tea. The cozy furniture was bought at Maxbo. I inherited the big urn from my grandmother.
The vase is from Kähler, the cups and pillows are designed by Grethe Solemsløkk, who lives in Røros. You can buy her products online, so you must not travel there, even if the place is beautiful and worth a visit.
I have decorated with a spade from Steglet flowers. The bird box and the beautiful calla come from Interflora. The cute cows come from Black design. We have had the water jug and the sign for many years and I no longer remember where they came from.
Today we will eat spaghetti with homemade meatballs in tomato sauce for lunch. It is easy to make and tastes good. We always make a double portion, so we can freeze some and use for tapas later.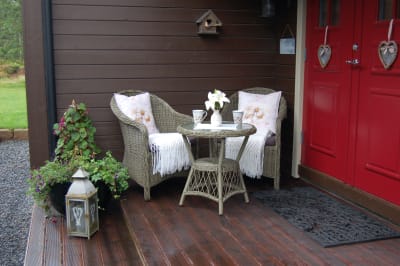 If you want to subscribe to news from the blog, you can sign up by sending us your e-mail address here. The newsletter is completely free.
You can also follow the blog on Facebook .