Moose fillet with shallot tart tartine, butter steamed root vegetables, potato roses and morel and cherry sauce is perhaps my favorite venison dish. It's a bit of work, but I think it's worth it.
Tarte tartine with shallots: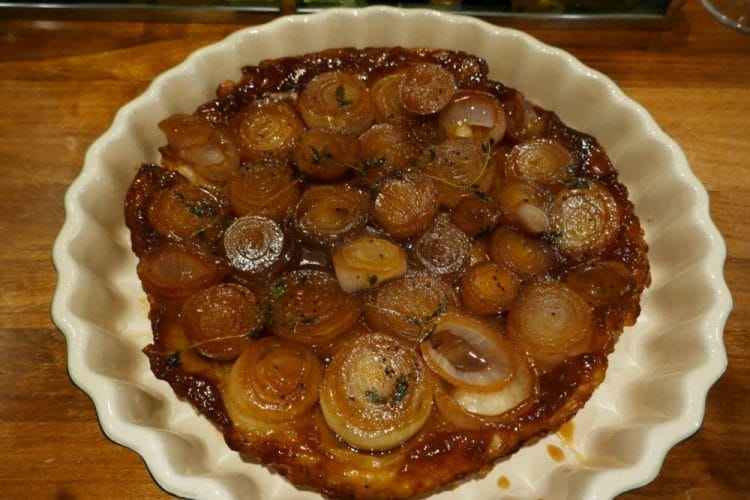 500 g shallots
3 tablespoons cane sugar
1 tablespoon butter
4 sprigs of fresh thyme
1 ss balsamiceddik
0,5 ts pepper
0,5 ts salt
1 tablespoon flour
1 pk puff pastry
Clean the shallots and divide them into inch-thick slices.
Pour sugar into a refractory dish of approx. 22 cm, e.g. pie form and melt it into caramel at 200 degrees in the oven. Take out the form of the oven and stir in the butter. Add thyme, salt, pepper and balsamic vinegar. It squirts a little, so be careful.
Place the shallots close together in the mold with the cut down.
Sprinkle flour on the counter and place the puff pastry sheets so that they overlap. Roll out the dough so much that it is 2 cm larger than the mold. Place the dough over the onion and gently squeeze it around the edge. Place the form in the middle of the oven at 200 degrees and bake for 25-30 minutes, or until the puff pastry has risen and got a nice, golden color.
Take out the mold and let it rest for a few minutes. Place a dish over and turn everything upside down. Lift off the mold. Cut into cake pieces and serve.
Potato roses:
For roses:
1 slice of bacon
1 potato in thin slices
desired spices
butter for brushing
Place bacon on a tray and distribute thin potato slices. Sprinkle on desired spices or herbs. Remember that the bacon releases salt. Roll up, insert a cocktail stick into the end of the roll and place the potato roses in an ovenproof dish, drizzled with a little oil. Brush with butter and put deep in the oven at 180 degrees for about 40-60 minutes depending on the size of the rose. Make sure they don't get too dark. Add any over some aluminum foil at the end. Remove the cocktail sticks before serving the potato roses.
If you want to see a video of how to make the potato roses, you can click here.
Morel and cherry sauce:
1 glass canned cherries
1 glass canned cherries
2 cinnamon bark
100 g sugar
2 tablespoons grated fresh ginger
4 dl kraft, ev. water and funds
2 tbsp mustard
2 oranges, juice and peel off
Brown cornstarch
2 ts salt
1 ts pepper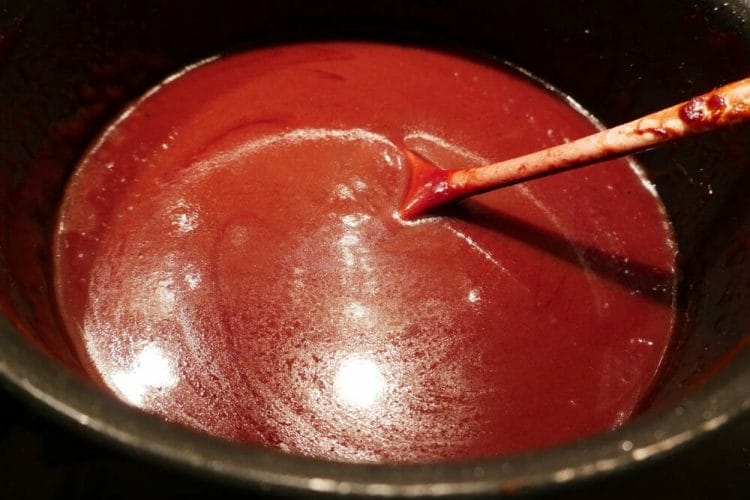 Pour cherries and cherries into a saucepan and bring to a boil. Add cinnamon, sugar, ginger, mustard, juice and grated orange peel. Let the sauce cook for 1 hour without a lid. Squeeze the berries so that they are soft and well cooked. Strain the berries and cinnamon bark, stir in the cornstarch until the consistency is fine. Season with salt and pepper.
Butter steam root vegetables:
2 parsley roots, peeled and divided into cubes
4 carrots, peeled and divided into cubes
1 leek, finely shredded
1 good blob of butter
Salt and pepper
Melt the butter in a saucepan, add the vegetables, a little salt and pepper.
Let the vegetables cook in the butter on a low temperature, stirring occasionally. Check after a few minutes if they are tender. The cooking time depends on the size of the cubes, but they taste best when they have some chewing resistance.
Elgfilet:
Calculate approx. 200 g of elk fillet per person.
In sous vide: We have vacuum-sealed the meat with thyme, oil, pepper and bay leaves and placed it in sous vide for 2 hours at 56 degrees. It has then been given a few minutes on the grill, so that it has a nice crust and perfect core temperature.
In the oven: If you don't have a sous vide, you can brown the meat in a hot frying pan with oil to close the pores. Put it in an ovenproof dish and roast the moose fillet in the oven at 180 degrees for 15 minutes. Take out and rest for at least 15 min. Put the meat back into the oven at 90 degrees and cook until the meat has a core temperature of 61 degrees.
Serve moose fillet with shallot tart tartine, butter steamed root vegetables, potato roses and morel and cherry sauce.
If you want to subscribe to news from the blog, you can sign up by sending us your e-mail address here. The newsletter is completely free.
You can also follow the blog on Facebook .