Fresh spring rolls are a delicious Vietnamese dish, which we make as a charity at our place. It's great when all the ingredients are ready to use and on plates around the kitchen island. Everyone in the family puts a little each in the rice paper and the sisman rolls them up and puts them on a plate.
500 g salmon fillet
1 pk rice paper
1 red chili
2 lime
8 tbsp soy sauce
2 teaspoons acacia honey
4 tbsp rapeseed oil
1 dl coriander
4 spring onions
1 cucumber
1/2 red onion
2 carrots
1 fl hoisinsaus
1 fl sweet chili sauce and / or peanut sauce
Place the salmon in an ovenproof dish. Finely chop the chilli and grate the lime zest from the lime. Mix chilli, lime zest, soy sauce, acacia honey and rapeseed oil. Pour the mixture over the salmon and let it marinate in the mixture for at least 1 hour, before roasting it in the oven at 180 degrees for approx. 30 minutes.
Let the salmon rest a bit before flaking it up with a fork.
Roughly chop coriander, cut spring onions, cucumber, red onion and carrots into thin strips. Feel free to use a mandolin or grater.
Put a sheet of rice paper in lukewarm water for approx. 10 seconds and let it drain a little. Add some salmon, vegetables, coriander and a little hoisin sauce to the rice paper. Fold the sides and roll it tightly together. Repeat until ingredients are empty.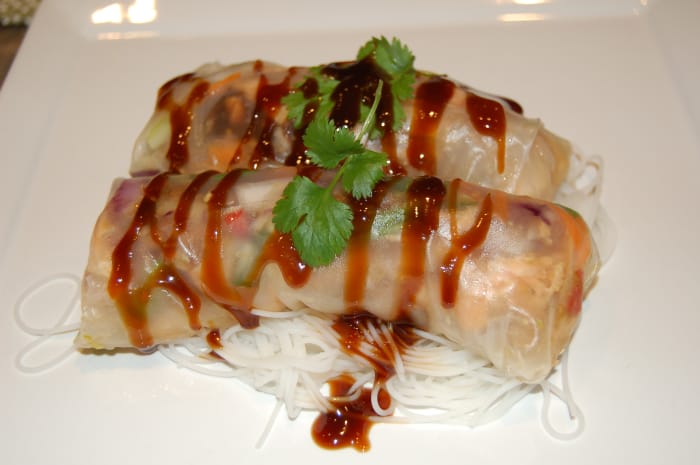 Serve fresh spring rolls with cooked rice noodles, extra hoisin sauce, sweet chili sauce and/or peanut sauce.
If you want to subscribe to news from the blog, you can sign up by sending us your e-mail address here. The newsletter is completely free.
You can also follow the blog on Facebook .