How to freshen up tired fish balls? I can hardly think of anything sadder than fish balls, but we have found several solutions to that, by improving the accessories. This variant comes with baked potatoes, cucumber salad and a more exciting sauce than the traditional white.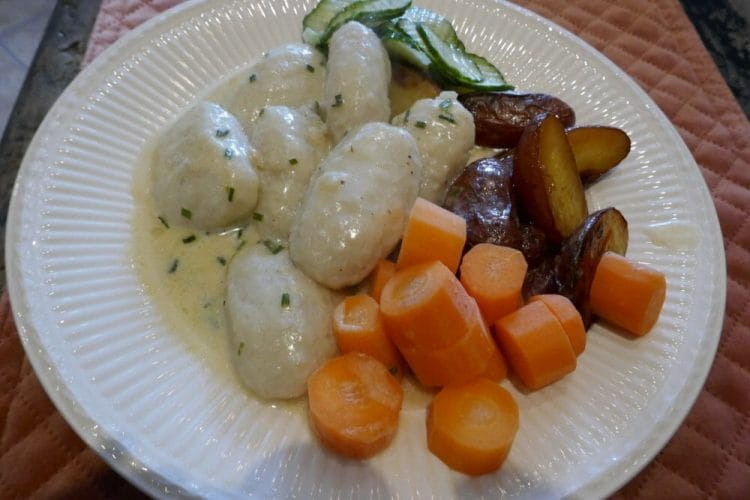 Sauce:
2 finely chopped onions
3 diced carrots
1 clove finely chopped garlic
1/2 diced fennel
100 g butter
2 fish stock cubes
1 dl white wine
1 dl Pastis eller et annet anisbrennevin (du har sikkert ouzo etter en tur til Hellas)
1/3 ltr cream
1 boks fresh cream
1 handful of finely chopped herbs, e.g. chervil, dill or chives
Start the sauce by sautéing the onion, carrots, garlic and fennel in the butter, until the onion is tender. Add stock cubes and white wine and cook until the moisture is almost gone. Add Pastis, cream and 1 can of crème fraîche. Put in the fish balls and cook slowly, so the fish balls are hot and add the herbs.
Recipe for cucumber salad can be found here and if you want a healthier variety, you will find the recipe for it here .
Potatoes:
Drizzle a little olive oil in a deep pan. Cut the potatoes into 2 or 4, depending on the size, and place them in the long pan. Season the potatoes with salt and pepper, drizzle over a little more oil and put them in the oven at full blast. When they start to get a little colour, turn down to 200 degrees and let them cook until they are crispy on the outside and soft on the inside.
If you want to subscribe to news from the blog, you can sign up by sending us your e-mail address here. The newsletter is completely free.
You can also follow the blog on Facebook .