Thai noodles with salmon taste good and are also quick to make. If you get leftovers, it tastes good in the lunchbox the next day. This recipe is enough for 4 people.
600 g salmon fillet
2 tbsp soy sauce
150 g sugar peas
1 bunch spring onions
2 red chilies
200 g eggnudler
1 handful of cashews
1 colored coriander
Sauce:
8 teaspoons sesame oil
4 tablespoons peanut butter
2 tablespoons grated ginger
The juice of 2 limes
6 tbsp soy sauce
4 tablespoons ketap manis (sweet soy sauce)
Stir together the ingredients for the sauce.
Divide the sugar peas in four diagonally, finely slice the spring onion and finely chop the chilli.
Prepare the noodles as described on the package.
Place the salmon in an ovenproof dish, drizzled with a little oil. Season it with pepper and drizzle over two tablespoons of soy sauce. Bake the salmon in the oven at 180 degrees for 10 minutes, the salmon should not be completely cooked through.
Fry spring onion and chilli in a little oil over high heat while stirring. Add the sugar snap peas and saute for 1 minute. Put the noodles in a bowl and mix in two-thirds of the sauce, the vegetables and the salmon (break it up into smaller pieces). Sprinkle chopped coriander and cashew and serve Thai noodles with salmon with the rest of the sauce on the side.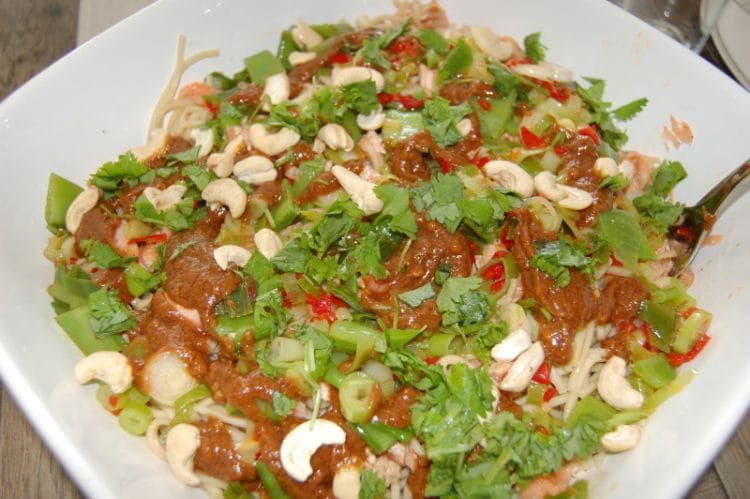 If you want to subscribe to news from the blog, you can sign up by sending us your email address HERE. The newsletter is completely free.
You can also follow the blog on Facebook .