Börek (banitsa) with lamb mince may look good, but just wait until you taste it. Spicy lamb filling with pine nuts and sultanas (possibly raisins) rolled into layers upon layers of crispy phyllo dough. Börek is also called banitsa, burek, bourekas and byrek, depending on where it comes from. You will find this dish in several countries, i.a. Albania, Armenia, Bulgaria, Iraq, Israel, Jordan, Lebanon, Macedonia, Palestine, Serbia, Syria, Tunisia and Turkey. I buy ready-made sheets of phyllo dough in the grocery store, there are usually 12 sheets in the package.
Lamb stuffing:
2 ss olivenolje
1 løk, finhakket
2 fedd hvitløk, finhakket
600 g lammekjøttdeig (ev. vanlig kjøttdeig)
1,5 ts malt spisskummen
3/4 ts malt koriander
3/4 ts kanel
1/2 ts kajennepepper
3/4 ts paprikapulver
1/2 ts allehånde
1 ts sort pepper
1,5 ts salt
1 dl sultanas (ev. rosiner), grovhakket
1 dl pinjekjerner
2,5 dl Mutti passata (fås på bl.a. på Meny)
1/2 dl vann
Lightly brown the pine nuts in a dry frying pan, pour them into a small bowl and set aside. Heat the oil in a saucepan or sauté pan and fry the onion and garlic for 2 to 3 minutes, while stirring. Add the minced meat and brown it, while crumbling it, so that it becomes quite fine-grained. Then add all the spices and continue browning for 1 minute, while stirring. Add the passata, sultanas, pine nuts and water and mix well. Simmer, uncovered, until the liquid reduces so that the filling is moist but not watery. Remove from the stove and let it cool slightly before the next process.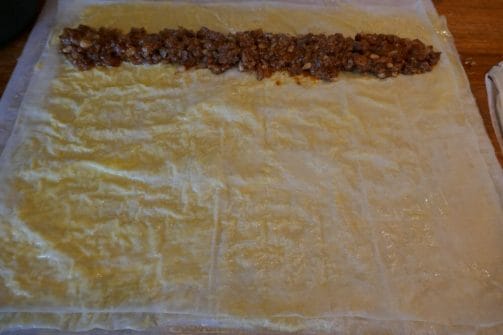 Yoghurt wash for the filo pastry (so it doesn't crack):
2 ss smør, smeltet
2 ss yoghurt naturell
1 egg, sammenpisket (i en kopp, med en gaffel)
Melt the butter, stir in the yoghurt and eggs and set aside until ready to use.
The assembly:
12 ark filodeig
2 ss smør, smeltet og avkjølt
White sesame seeds
Yoghurtvask
The lamb dough mixture
Open the phyllo dough package and roll out the dough. Place the first sheet on a piece of baking paper and spread it gently with yogurt wash (use a baking brush, with which you first spray a little of the mixture on the surface and then spread it on). It doesn't have to be so meticulous. Place the next layer of phyllo dough on top, and brush with yogurt wash. Repeat until you have 4 layers in total, but don't brush the last one.
Place 1/3 of the lamb filling along one long side and roll up into a sausage. It should not be tight, because then the filo pastry can tear, it is quite fragile. Make 3 equal sausages.
Spiral: Take a sausage and roll it into a spiral in a pie tin, long pan or similar. Attach sausage no. 2 to the first by tucking the ends into each other and secure with yoghurt wash. Do the same with the last sausage.
Brush the top with butter, sprinkle with sesame seeds and bake in the oven at 200 degrees for approx. 40 min. until the börek is golden.
Divide into pieces of cake and serve with yoghurt sauce and a fresh salad or tabouleh,
Yoghurtsaus:
2,5 dl yoghurt naturell
1/4 ts hvitløk, finrevet
1 ss sitronsaft
1 ss ekstra virgin olivenolje
Salt and pepper
Mix together and refrigerate until ready to use.
Tabouleh:
Make bulgur after referring to the package, but use 50% more water so it does not get so dry. When the bulgur has finished resting, add finely chopped spring onion or red onion, mint, finely chopped parsley and raisins and mix well. What you add can be varied according to taste and liking and it is good with e.g. pine nuts in too. Garnish the taboult with a little mint and limes, before serving.
You will find exciting food recipes from all corners of the world HERE .
If you want to subscribe to news from the blog, you can sign up by sending us your e-mail address here . The newsletter is completely free.
You can also follow the blog on Facebook .