Reindeer tenderloin along with cream au gratin potatoes and Madeira sauce are lovely company food. The tenderloin is placed in a sous vide and is wonderfully tender. If you do not have sous vide, you can brown it in the frying pan and put it in the oven until the frying thermometer shows 60 degrees.
The meat:
Put the tenderloin in a marinade of olive oil, pepper, thyme and bay leaves, before you vacuum pack it and put it in sous vide for 2 hours at 56 degrees. Just before serving, brown the meat a quick round in the frying pan, or on the grill, so it gets a nice color.
Madeirasaus:
2 shallots
Butter for frying
1/2 tbsp tomato puree
1.5 tablespoons wheat flour
3.5 dl chicken power, ev. water and funds
2 dl wood
2 tbsp soy sauce
Salt and white pepper
1.5 tablespoons butter
Finely chop the onion and fry it in butter until shiny. Add tomato puree, sprinkle with flour and stir well. Dilute with power and wine. Whisk well and bring to the boil. Add soy sauce and season with salt and pepper. Let the sauce steep for 30 minutes before straining.
Whisk in butter just before serving, but then the sauce must not boil afterwards.
Cream au gratin potatoes , you can find the recipe HERE .
Break beans:
Cut off the ends of the beans, boil some water with a couple of tablespoons of butter, add the beans and bring to a boil. Take the pan off the plate and let it stand and enjoy yourself for a few minutes under the lid. Pick up the beans and serve with reindeer tenderloin, cream au gratin potatoes and Madeira sauce.
You can find more tasty recipes with game here .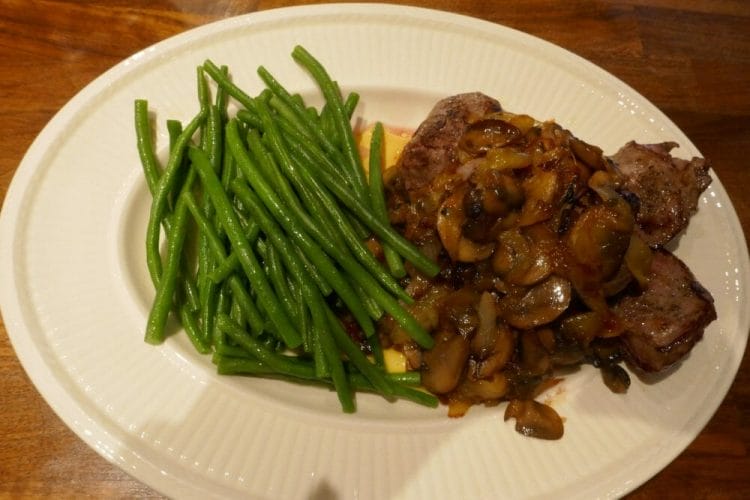 If you want to subscribe to news from the blog, you can sign up by sending us your e-mail address here. The newsletter is completely free.
You can also follow the blog on Facebook .