Creamy fish soup tastes good and is suitable as lunch, starter, main course and evening snack. This is made with salmon, but you are welcome to use other types of fish and make a combination of several types. You can also do like the fins and add some diced potato at the same time as the carrots, to make it even more filling.
1 onion diced
2 cloves garlic, finely chopped
A little butter
2 dl white wine ev. apple juice
2 dl fishing power (possibly some fish stock and water)
1/2 liter of milk
1/2 liter cream
2 sliced carrots (preferably both orange and yellow)
1/2 finely chopped fennel
10 cherry tomatoes, divided into two
200 g diced salmon or other fish
1 handful of finely chopped herbs, I have used parsley and the green from the fennel
Salt and pepper
Ev. a little lemon or lime
Onions and garlic are blanched in a little butter. Add white wine and let it boil a little, before adding fish stock, milk, cream and a little freshly ground pepper.
Add in the carrot and fennel and let it cook for about 10 minutes, before adding the cherry tomatoes, cut in half, and the salmon or other diced fish. Let the soup steep for a few minutes, until the fish is ready. Add herbs. Taste to see if it needs salt and more pepper. If the soup needs more acid than from the white wine, you can add a little lemon or lime.
I serve with homemade baguettes. You can find the recipe here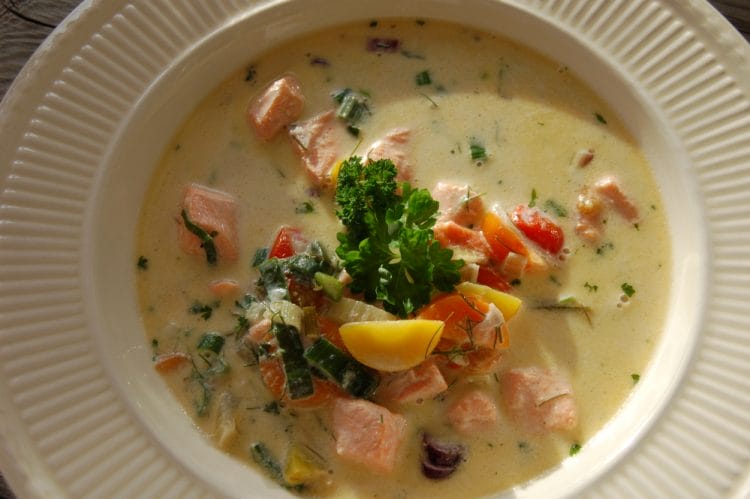 If you want to subscribe to news from the blog, you can sign up by sending us your e-mail address here . The newsletter is completely free.
You can also follow the blog on Facebook .