Salmon and pasta with creamy tomato sauce is liked by both young and old and is a great dish if you want to teach children to like fish. I have used a fun pasta variety I bought at the airport in Verona.
400 g fillet of salmon
400 g optional pasta
1.5 dl cream
400 g crushed canned tomatoes (preferably Mutti)
1 dl rapeseed oil, or a mixture of these
3 cloves finely chopped garlic
2 spring onions
basil
Salt and pepper
Cut the salmon into suitable pieces and add a little salt. Set it aside.
Heat the oil in a saucepan, cut the garlic and let it simmer for a short while. It must not be tanned.
Add the tomatoes together with a few pinches of dried basil or a tassel of fresh basil.
Let it simmer for approx. 15 minutes before adding the cream. Bring to the boil and season with salt and pepper.
Add the salmon and spring onion, bring to the boil again and let the fish simmer on the boiling point for 5 -10 minutes
Salmon and pasta with creamy tomato sauce served with grated parmesan and a sprig of basil, for those who like it.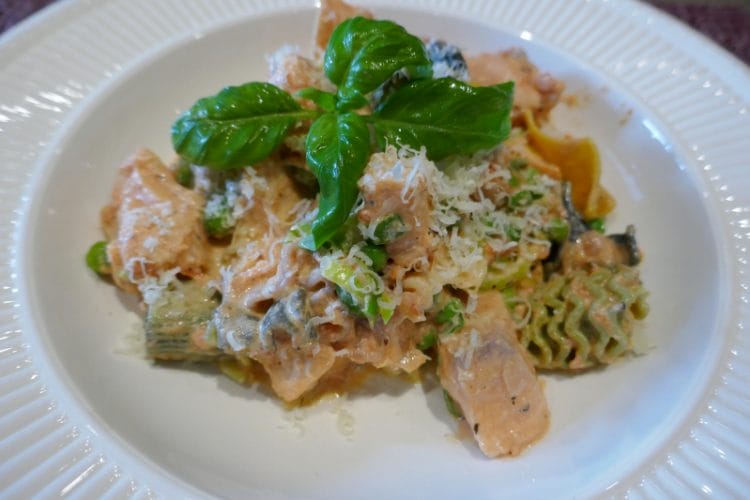 Salmon and pasta with creamy tomato sauce
If you want to subscribe to news from the blog, you can sign up by sending us your e-mail address here. The newsletter is completely free.
You can also follow the blog on Facebook .