Fresh soup with sour and sweet sauce and balls is my absolute favorite dinner from childhood. I always got to taste the sauce and really I didn't need soup or meat, just mashed potatoes with the wonderful sauce. As an adult, this is still a big favourite, which we eat a couple of times during the year.
1.5 liters of water
1.5 kg of beef with bones, e.g. high back, impart or bow
2 bay leaves
1 ts salt
1 finely shredded leek
3 carrots
100 g celery root
50 g parsley
150 g cabbage
Salt and pepper
Boil 1.5 water and add the meat with bones in as whole pieces as possible. Bring to the boil again and froth well. Sprinkle with salt and add the green of the leek, finely shredded. Let it soak under the lid until the meat is tender, approx. 2.5 - 3 hours. Carrots, celery root and parsley root are peeled and divided into cubes. Shred 150 g of cabbage finely. Add all the vegetables to the pan and let everything simmer until tender, for approx. 10 minutes. Season with salt and pepper.
While the vegetables are pulling, strain off approx. 5 dl power from the soup and make the sauce.
Onion sauce:
2 tablespoons butter
1 finely chopped onion
2 tablespoons wheat flour
5 dl of the cooking power from the meat
Ca. 2 ss eddik
Ca. 3 ss sukker
Salt and pepper
Saute onion in butter until translucent. Stir in the wheat flour and season with the cooking stock from the meat. Let the sauce simmer for 10 minutes, before seasoning it with vinegar, sugar, salt and pepper.
When the vegetables are done, season the soup with salt and pepper. Serve the soup as an appetizer with flatbread next to it, grated nutmeg and possibly a ball (see recipe below).
Take the meat and cut it into slices before serving. Serve the meat with onion sauce, boiled potatoes and vegetables from the soup.
Globe:
I've grown up with klot in the soup. There are small dumplings that are boiled with in the soup, at the very end.
1 egg
2 tablespoons water
1 pinch of salt
1 teaspoon sugar
a little flour
Lightly beat the egg together with salt and sugar and stir in the wheat flour until you have a thick mixture. Make small balls with a teaspoon, which are dipped in water and let the balls soak in the juice until they float.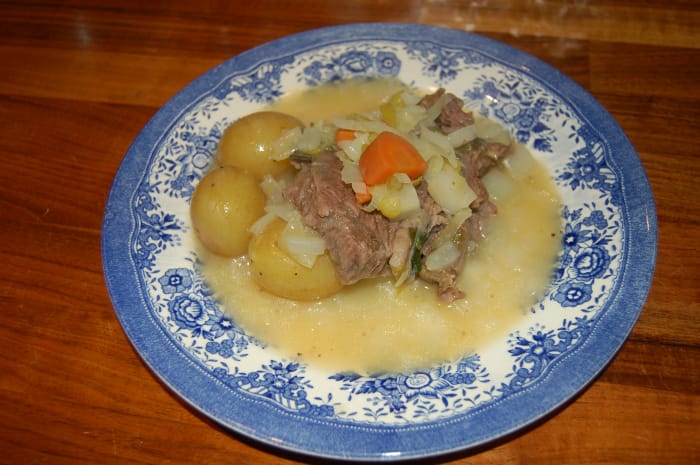 You will find several varied and traditional dishes HERE.
If you want to subscribe to news from the blog, you can sign up by sending us your e-mail address here. The newsletter is completely free.
You can also follow the blog on Facebook .