French liver pâté tastes extra good when you have made it yourself. This recipe is a bit similar to mum's liver paste, but I have changed the ingredients a bit.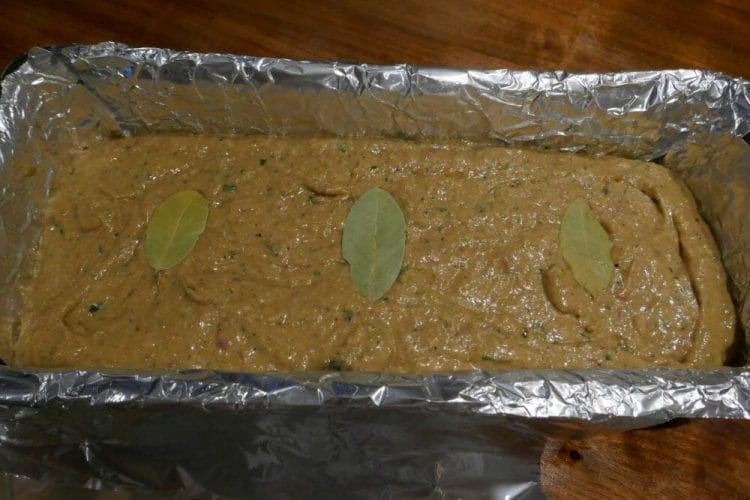 200 grams of liver (pork, veal or chicken)
150 g medister dough
2.5 dl cream
4 egg
1 medium onion
5 cm leek
1 sprig of parsley
200 g bacon fried in dairy butter
150 grams of melted dairy butter
1.5 dl wheat flour
1 ss salt
1 teaspoon paprika powder
1/2 ts pepper
1 clove ground cloves
1 ts tarragon
Process everything in a high-speed blender to a porridge. Grease either small tins or a loaf tin (if you line with foil first, it is easier to get the liver paste out of the tin), fill in the mixture and place a bay leaf on top of each tin. Fry French liver pâté in a water bath at 170 degrees for approx. 1.5 hours at the bottom of the oven. Cool in refrigerator.
If you wish, you can put a layer of aspic on top.
Aspic:
1 pk aspik
Water
1 dl sherry
Rose paper
Pickles
Make aspic according to the instructions on the package, but replace 1 dl of water with sherry. Cool the mixture, decorate the top of the liver pastes and pour the aspic over it, when it has just started to harden. Refrigerate until ready to use.
If you want to freeze the liver pâté, it is best to do so before frying it. Aspic becomes cloudy and is unsuitable for freezing.
If you want to subscribe to news from the blog, you can sign up by sending us your e-mail address here. The newsletter is completely free.
You can also follow the blog on Facebook .