Korean pizza has a lot of flavor, but is not strong, if you do not choose to use a lot of chili. I use bulgogi pizza sauce and remnants of Korean pork neck, as a filling.
Bulgogi pizzasaus:
1/2 ss brunt sukker
1 ss soyasaus
1 ss vann
1/2 ss risvin
1/4 ts Østerssaus
1/2 ts finhakket hvitløk
1/2 ts sesamolje
Mix the ingredients in a small saucepan, bring to a boil and let it boil over low heat for 20 seconds.
For thickening the sauce:
1 ts maisenna
1 ss vann
Mix in a small bowl and pour it into the boiling sauce while stirring. Put the sauce cold until it is to be used.
Bottom:
550 g mel, helst tipo 00
1 ts salt
1/2 pk pizzagjær
1 ts honning
1 ss olivenolje
About. 3 dl cold water
Knead everything well together and let it rise. The dough is perfect, when it is so moist that you just manage to roll or press it out, then add enough water, if necessary. adjust with flour.
When I make pizza, I let the dough enjoy itself for a long time, preferably in the fridge overnight. I take it out approx. 1 hour before I use it and let it rise on the bench, before I push / roll it out and let it rise for approx. 30 minutes. For Italian pizza, it is rolled very thin and for pizza with an American base a little thicker. If you make the pizza dough the same day as you are going to use it, it can be left on the counter and raised for a minimum of 1 hour. I always fry the bottom at high temperature for a few minutes, before I put on the filling.
Fill:
1 porson bulgogi pizzasaus
1 pk shitakesopp, ev. aroma eller sjampinjong
Pork neck, leftovers
1 rødløk i strimler
1 rød paprika i ringer
200 – 300 g ost, gjerne vellagret og gjerne flere varianter
Bake the pizza at 200 degrees until it is golden and the bottom is cooked through.
It tastes good with Korean red cabbage salad and you can find the recipe here .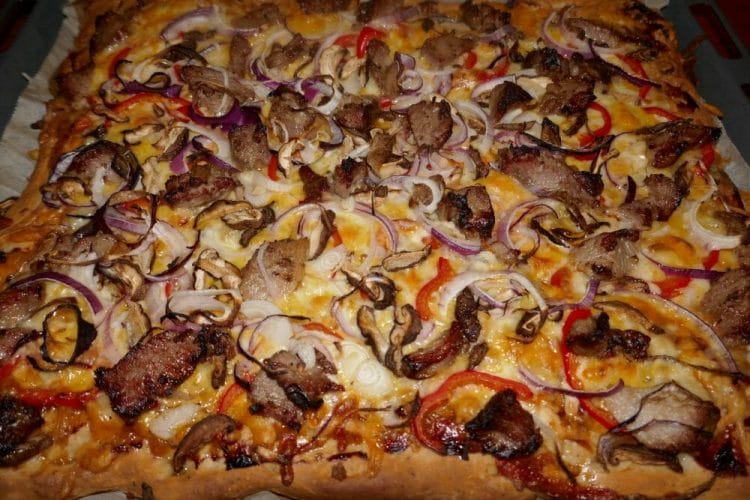 If you want to subscribe to news from the blog, you can sign up by sending us your e-mail address here . The newsletter is completely free.
You can also follow the blog on Facebook .