Marinated chicken breast in burger bread is an easy and tasty dish, which is suitable for both lunch and dinner. This recipe is suitable for 4 people.
Marinade for the chicken:
The juice of 1 lemon
1 tsp chili paste
2 teaspoons garlic paste or 2 finely grated cloves
1 tbsp coriander paste
1 tbsp mustard
2 tablespoons olive oil
Salt
Pepper
Mix everything and grease the chicken fillets with it. Let the chicken enjoy for a few hours, preferably overnight. Grill it or fry it in a pan until it is cooked through, but still juicy.
Served with lettuce, cucumber, red onion in strips, tomato, paprika and aioli.
When I use it as a dinner dish, I serve with potatoes, for example:
Baked pearl potatoes:
Place 200 – 250 g of pearl potatoes in a skillet, along with a little olive oil. Shake the mold a little, so the potatoes will be completely covered with oil. Season with salt, pepper and any other spices you fancy and put them in the oven on full blast for 15 minutes. Then turn down to 200 degrees and let them cook until crispy on the outside and soft inside.
You can buy ready-made burger bread, but homemade tastes best. You can find the recipe HERE .
If you make a large portion, you can freeze and take up for dinner later. They taste just as good then.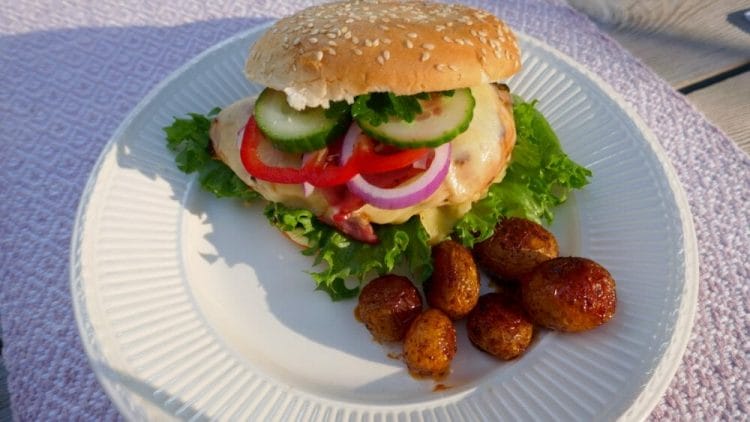 If you want to subscribe to news from the blog, you can sign up by sending us your e-mail address here. The newsletter is completely free.
You can also follow the blog on Facebook .