Shakshouka (shakshuka, shakshoka, schakschuka) is served for breakfast in Tunisia, Algeria, Egypt, Libya, Morocco, Iran, Jordan, Saudi Arabia, Palestine and Israel. The dish is probably from Tunisia, but is Israel's national dish. We like to use shakshouka for lunch, or as part of the meze, which is the southern and eastern part of the Mediterranean's answer to tapas. You can also use it as a quick dinner dish.
2 onions, finely chopped
2 cloves garlic, finely chopped
1 red pepper, finely chopped
3 tablespoons olive oil
2 teaspoons malt coriander
2 teaspoons ground cumin
3 teaspoons paprika powder
1/4 teaspoon cayenne pepper
1 can of finely chopped tomatoes
12 cherry tomatoes
1 red chili, finely chopped
Salt and pepper
5 egg
1 handful fresh coriander, finely chopped
Fry the onion and garlic in the oil in a wide frying pan, until the onion is shiny. Add the peppers and all the spices and let it sauté for 5 min. while stirring. Add the rest of the ingredients except the eggs and fresh cilantro and it boil under a lid in mine. 20 min. Make pits in the sauce and chop one egg in each pit. Put the lid back on and let it simmer for 5 min. Sprinkle with cilantro and serve shakshouka with good bread, e.g. pita.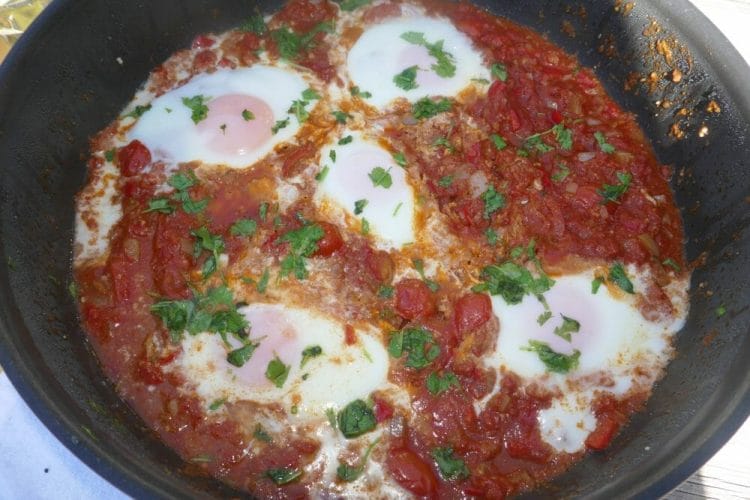 If you want to subscribe to news from the blog, you can sign up by sending us your e-mail address here. The newsletter is completely free.
You can also follow the blog on Facebook .