Sicilian tuna is a lovely and not least quick dinner dish to prepare. You can buy tuna at Meny. If they don't have it in stock, they can order it for you. This recipe is suitable for 4 people.
4 tunfiskbiffer a 200 – 250 g
Olive oil to brush with
Salt and freshly ground pepper
1 ss olivenolje
2 fedd hvitløk, finhakket
1 pk søte minitomater, delt i 4
2 dl tørr hvitvin
10 grønne oliven i skiver
1 dl kapers, skylt
2 ss sitronsaft
1 1/2 ss revet sitronskall
2 ts finhakket fersk timian
2 ts finhakket fersk persille
1/4 ts salt
1/4 ts nykvernet svart pepper
1 dl finhakket fersk persille
Fry the garlic for a minute in a little oil. Add the tomatoes and let it cook for a couple more minutes, before adding the wine and let it boil down to half the amount of liquid. Add the rest of the ingredients except the last parsley and simmer for 5 minutes. Stir in the parsley, stir and serve.
Brush the tuna with a little oil and sprinkle with salt and pepper. Fry the tuna steaks on high heat for 2 minutes on each side, either on the grill or in a frying pan. It should be pink in the middle.
Serve the tuna steaks immediately topped with the sauce. Serve with oven-baked mini potatoes, seasoned with oil and grated parmesan.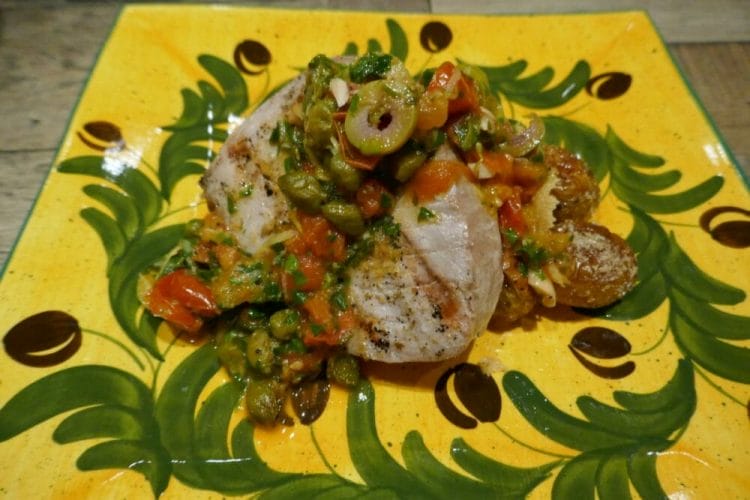 You will find more tasty dishes with tuna here .
If you want to subscribe to news from the blog, you can sign up by sending us your email address here. The newsletter is completely free.
You can also follow the blog on Facebook .