Cabaret is one of the festive dishes of childhood. It was always on the cold table and I think it still tastes good, with homemade tartar sauce (remoulade). The beauty of the cabaret is that it can easily be made the day before, so you are sure that it will harden. You can wear whatever you want in the cabaret, but here is my tip.
1 pose aspikpulver
3 egg
1 small pot of dill
1 box of asparagus
1/2 fish pudding in cubes
1 bag of Argentine giant prawns
1/2 pose amerikansk blanding, gjerne frossen så kabareten stivner raskere
1 pk crabsticks
1 small box of crayfish tails
Use a suitable mold or bowl. I have a ring mold, which I think will be nice, since then I can put the bowl with the tartar sauce in the middle. Make aspic according to the instructions on the package. While it is left to cool at room temperature, the eggs are boiled, which are peeled and divided into egg parts when they are cold. Remember that what you put at the bottom of the mold will be the most visible when you make the cabaret, so I always add some herbs first. When you have filled the mold with all the goodies, pour the aspic over it and refrigerate until the next day. Before serving, dip the mold in hot water for a few seconds and turn it over onto a plate. You can find a recipe for an easy and good tartar sauce (remoulade) here .
You can also make the cabaret in portion forms and serve as a starter. Cut out loaf slices with a portion form, which fits perfectly under the cabaret.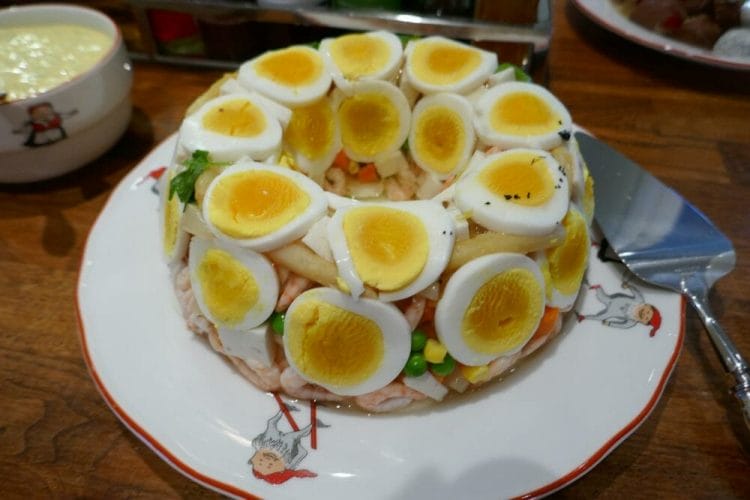 If you want to subscribe to news from the blog, you can sign up by sending us your e-mail address here . The newsletter is completely free.
You can also follow the blog on Facebook .